---
About my Pottery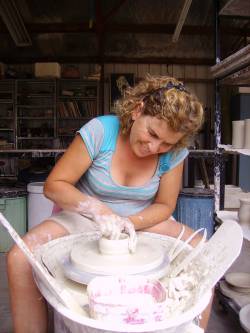 Each piece of Emily Laszuk pottery is handmade and painted creating a unique artwork.Yet it is consistent and high quality, reliable enough to be built into a collection over years.
I throw each piece, working in runs to get a rhythm and flow going. These are then decorated to order to allow for that personal touch including names of people and places . The decoration is brushed on the smooth white clay. It flows beautifully but allows for no mistakes.
The designs that I use are inspired by the farm that is my home. I closely observe the animals and birds that share this place and distil their essence onto my pots.
My pots are thrown from porcelanious stoneware and once decorated are bisqued to make the clay ceramic. They are then covered in a hard clear glaze and fired at high temperature (1280 degrees Celsius).Doing thing this way means that the design is protected by the glaze unlike with most commercial pots.
These pots are comfortable being used in the oven, the microwave, the freezer and in the dishwasher.
In recent times I have loved working with the contrary soft clay that becomes rock like, so that the mark of my thumb made in the soft clay is made hard and permanent by the kiln. I have also started a range of botanical designs, reflecting the nature that surrounds me.
As well as my blue and white and coloured range I am also exploring the qualities of the ancient Arabic art of reduced lustre.These glazes use precious metals and intense reduction to create rainbows and depth on the forms that I make. They can only really be appreciated in real life as they change with the light magically.
More information on the processes that I use are on the technical page.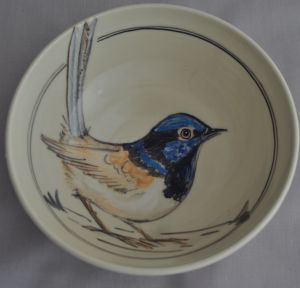 Wander through my Gallery, or browse through my online shop.